Edmond, OK Implant Services
What are Dental Implants?

Think of dental implants as artificial tooth roots, similar in shape to screws. When dental implants are placed in your jawbone, they bond with your natural bone. They become a sturdy base for supporting one or more artificial teeth, called crowns.
A connector – known as an abutment is placed on top of the dental implant to hold and support your crowns. The crowns are custom-made to match your natural teeth and fit your mouth.
Modern dental implants have been used successfully for over 30 years. They are the strongest devices available to support replacement teeth – and even better, they allow these new teeth to feel, look and function naturally.
When performed by a trained and experienced dental implant dentist, dental implant surgery is one of the safest and most predictable procedures in dentistry.


How many teeth can be replaced with dental implants?

You can replace a single tooth, multiple teeth or all your teeth with implants. You don't even need one implant for every missing tooth. As few as two Implants can support a removable lower denture, while as few as four implants can provide a full, permanent set of top or bottom teeth.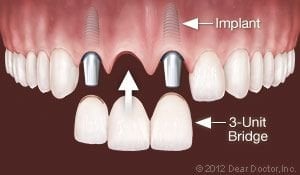 Replace Multiple Teeth
When you have more than one tooth missing, implants provide an ideal replacement mechanism. You don't even need one implant for every missing tooth. Instead, implant teeth can act as supports for fixed bridgework. For example, if you are missing three teeth in a row, we can place two implants, one on either side of the gap, and a crown in between that has no implant underneath. That way, you won't need to use any of your remaining natural teeth as bridge supports, which could weaken them and make them more susceptible to decay.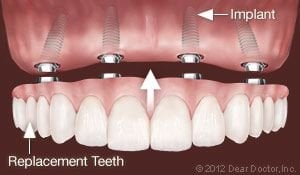 Replace All Teeth Permanently

Implants can support an entire arch of upper or lower replacement teeth that are fixed into the mouth and are never removed. Sometimes the new teeth can be supported by as few as 4 implants. It's comparable to the structure of a table, which only needs 4 legs to hold it up. In cases where jawbone density and volume have deteriorated, 5 or 6 implants might be needed to support a row of 10 to 12 teeth. Dental implant replacement teeth protect your jawbone, won't slip, and should last a lifetime.

Is dental implant surgery painful?
Most people find dental implant surgery very easy to tolerate. Any post-operative discomfort can usually be managed with over-the-counter anti-inflammatory medication such as ibuprofen or OTC pain-relievers. Ice can also be helpful.
Am I a candidate for dental implants?
There's a good chance that you are, but this can only be determined after a complete oral examination that includes x-rays of your jaws. Please schedule a consultation to begin the exciting process of restoring your smile and bite.

WHAT ARE THE BENEFITS OF GETTING TEETH IMPLANTS?
THEY LOOK AND ACT LIKE NATURAL TEETH

THEY CAN LAST A LIFETIME WITH THE RIGHT CARE

YOU DON'T NEED ANY ADHESIVES

THEY IMPROVE APPEARANCE, COMFORT, AND SPEECH

IT'S EASIER TO EAT
---
Want to learn more about dental implants from Wallace Family Dentistry?
Call our Edmond, OK dentist office at (405) 340-0411 today for more information or to book an appointment!